Ecole d'Avignon
The rehabilitation of heritage building covers today the all field of towns and villages centres. It is this enlarged conception of traditionals grouping that we call architectural heritage. It is also the intervention field of l'Ecole d'Avignon, whose actions concerns the conservation and rehabilition of this heritage : architecture, materials, jobs, techniques, resources.
L'Ecole d'Avignon was born in 1983 from the ambition to characterize the necessary skills to intervene on architectural heritage. For almost 30 years, she acts in the heart of the rehabilition network. Starting as a formation centre, l'Ecole d'Avignon is now a resources centre with international influence.
L'Ecole d'Avignon gather in the same place all specialized skills, usually held by professions whose interventions are limited in one segment of the sphere of action.
From now on l'Ecole d'Avignon provide a series of prestations, all aiming to bring an accompaniment service to the three wide categories of actors :
Public and private contracting,
Project management,
Execution sector
    Archives d'Architecture Moderne
The Archives d'Architecture Moderne a.s.b.l. were founded in 1968 by architects and historians concerned by the quality of urban life. the purpose of the association has been to stir debate about architecture and urban planning and to show the value of the country's monumental architectural heritage, to collect and preserve the essential documents of modern architectural history in Belgium. Book publications, exhibitions, urban planning studies, architectural history research, have for more than 40 years all contributed to the international renown of the association. The AAM have also participated in many international architecture competitions and in numerous colloquia, and are represented by a diverse group of associations or task forces specializing in urban planning, in architectural history, or in museography.
The center of the Archives d'Architecture Moderne is an architectural archives center, a library, a photo library and a museum and promotes the visibility of their collection to the public through temporary exhibitions and regular publications.
Associazione Giovanni Secco Suardo

The Associazione Giovanni Secco Suardo was founded, entitled to Giovanni Secco Suardo (1798-1873), whose work has had a remarkable influence on restoration's history in Italy and abroad. The Associazione Giovanni Secco Suardo operates, since 1991, in coordination with leading public institutions, both national and international, to stimulate and widen cultural-historic and technical-scientific researches, and to allow confrontation on conservation problems of different cultural realities fostering constant updating and the debate on advanced topics and methods. In order to achieve these goals the Association promotes initiatives such as conferences and seminars, the setting up of archives and databases, the promotion of cultural and scientific exchanges in Italy and abroad, the participation in projects carried out in developing countries and publishing activities. These activities are carried out through cooperation with major public (Ministries, Universities, Government Offices, Museums and recognised education institutions, etc.) and private (Foundations, Museums, Associations in the sector, etc.) institutions in the field.
The Association also has a library, a video library and an archive relating to the Conservation and Restoration of Cultural Heritage opened to public. All materials can be consulted as well as the documents of the project National Historical Archive of the Italian restorers".
University
 of Applied Sciences
 in Nysa

University of Applied Sciences in Nysa, although not located at the crossroads of big transportation routes, is by far and large equal to big academic institutions in terms of educational standards and material basis. Positive opinions  expressed by State Accreditation Committee as well as highly qualified staff and top positions in rankings of similar schools are enough to prove high-quality education offered at the School of Higher Vocational Education in Nysa. The fact that the University is quite young is its asset: the teaching infrastructure – buildings, lecture halls, laboratories with first-class equipment –complies with the contemporary trends and European standards and gives their students a complex and practical preparation for future employment on competitive labour market. Graduates have the possibility of obtaining various grants and participate in different practice programmes in approximately 40 academic centres in Europe, both during studies or after them. Research  and Development  Centre  for  Renovation  and  Conservation  in  Nysa  was established by the School of Higher Vocational Education in Nysa in 2004. It  has  been  partly  financed  from  the  European Regional  Development  Fund  within the Integrated Operational Programme of Regional Development. Areas of expertise: CONSERVATORY RESEARCH & ANALYSIS (for historic objects, details and restoration materials), EDUCATION, PRESERVATION, CONSERVATION  AND RENOVATION OF HISTORICAL OBJECTS.
Mission of the institution:
to generate new knowledge by engaging in cutting-edge conservatory  and material research;
to popularize sustainable conservation knowledge through a variety ofeducational and culturalactions and activities;
tocoordinate  all  the  actions  in  antiques  safety  and  to  operate  for saving cultural heritage;
tocontribute  to  the  academic  growth  by  offering  state-of-the-art training courses andprogrammes;
toundertake  collaborative  projects  which  offer  opportunities  for long-term  interaction between  research  and  conservation  and  renovation sector or industry;
to develop international cooperation and exchange of knowledge and experiences by commonprojects and programmes.
LERM – Laboratoire d'Etudes et de Recherches sur les Materiaux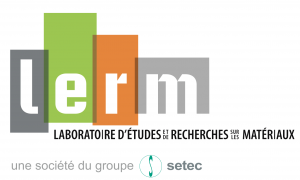 On the strength of its several laboratory and the thousands of cases studies it has produced in its many years of activity, the Lerm can operate at every stage of the construction life cycle, from design, through construction to rehabilitation and transformation.
From Civil engineering to building, from Built Heritage to Waste Managment, the lerm's customers come from every field of construction :
Materials manufacturers
Architects and design offices
Construction companies
Public and private owners
Building experts
Heritage conservation organisations
Waste management companies
From standardised tests on materials prior to use, through to full physical and chemical analysis of samples taken from all types of constructions, the Lerm laboratory offers over 400 tests and the analytical services required to characterise materials.
These services are carried out within the bounds of our ISO 9001 v2008 accreditation and 70 of them are governed by former areas n°3, 23 et 7 of the accredited COFRAC tests which meet the requirements of standard ISO/CEI 17025 .
The teams of expert technicians work in a vast complex of 4 laboratories, all purposefully installed on the same platform, in proximity to the engineering department, which not only writes the technical test reports but also coordinates, analyses and interprets the results in order to provide clients with sound advice.